Spicerhaart appointed selling agents for new development in Wavendon
---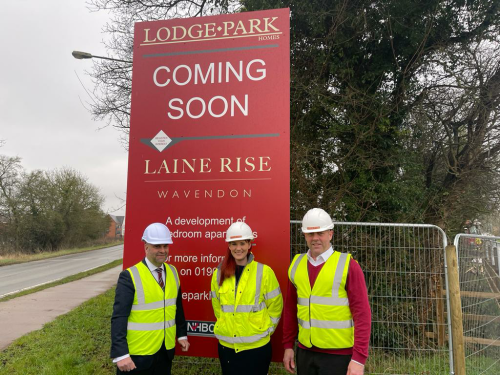 Laine Rise, the refreshingly different development on Stockwell Lane, marks a new partnership between developers Lodge Park Homes and estate agency Spicerhaart Land and New Homes.   These large, exclusive apartments (up to 1,000 sq. ft. in size) will soon be available in the village of Wavendon to help homeowners get the most out of their living space. 
Mark Alvis, Divisional New Homes Sales Director for Spicerhaart Land and New Homes, said: "You have all the space you'd expect in a house across one floor, with room usually reserved for stairs, hallways and landings being turned into usable living space." 
Katrin Eindorf, Sales Director for Lodge Park Homes, added: "Spicerhaart really understands the potential and advantages of new builds and we're excited to be working with them on this project." 
Lodge Park Homes was inspired to build the new apartments after receiving increasing enquiries from Londoners who wanted to leave the city for the countryside in light of the Covid-19 pandemic. 
The developers saw the trend continuing so planned for a development that would give city-dwellers the space they needed with great public transport links in a breath-taking location. 
Katrin explained: "People often came to us saying they can't find enough space in apartments, so we wanted them to reimagine what was possible with Laine Rise." 
Each of the 16 apartments boasts two double bedrooms with en-suites, balconies and an open plan layout. Some properties will also come with enough square footage for a four-bedroom house. 
Mark added: "Laine Rise is situated on the outskirts of the beautiful village of Wavendon and near the popular Stables Theatre, which was made famous by the late Dame Cleo Laine and her husband Sir John Dankworth, who were exceptional jazz musicians. 
"Laine Rise is also a short distance away from local train stations, bus routes and the market town of Woburn, as well as a short drive from the M1. It has all the local amenities and accessibility you would want!"
Laine Rise is anticipated to launch for off-plan sales in summer 2022 from the Central Milton Keynes offices of haart  Email milton.keynes@haart.co.uk for more information.